Federal (DOMA Plaintiffs)
AK - Alaska
AL- Alabama
AR - Arkansas
AS - American Samoa
AZ - Arizona
CA - California
CO - Colorado
CT - Connecticut
DC - District of Columbia
DE - Delaware
FL - Florida
FM - Federated States of Micronesia
GA - Georgia
GU - Guam
HI - Hawaii
IA - Iowa
ID - Idaho
IL - Illinois
IN - Indiana
KS - Kansas
KY - Kentucky
LA - Louisiana
MA - Massachusetts
MD - Maryland
ME - Maine
MH - Marshall Islands
MI - Michigan
MN - Minnesota
MO - Missouri
MP - Northern Mariana Islands
MS - Mississippi
MT - Montana
NC - North Carolina
ND - North Dakota
NE - Nebraska
NH - New Hampshire
NJ - New Jersey
NM - New Mexico
NV - Nevada
NY - New York
OH - Ohio
OK - Oklahoma
OR - Oregon
PA - Pennsylvania
PR - Puerto Rico
PW - Palau
RI - Rhode Island
SC - South Carolina
SD - South Dakota
TN - Tennessee
TX - Texas
UT - Utah
VA - Virginia
VI - Virgin Islands
VT - Vermont
WA - Washington
WI - Wisconsin
WV - West Virginia
WY - Wyoming
Clicking on the State or U. S. Territory to the left, will list the Plaintiffs that fought hard for equality within that State. Please use the CONTACT FORM to write to us with any additional information or corrections.
We will be adding PROFILE information over the next several months to make sure all the plaintiffs are recognized. Follow us on TWITTER as we update this site showing all the hard work everyone has done.
If you search for your name and don't see a list of NEWS ARTICLES specific to your case, please use our CONTACT FORM and send us the URLs of specific online articles. We will add these under your names to provide a permanent record of this historic RoadToEquality.com
Follow Us On Twitter
---
Items Available from
Amazon.com
---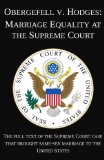 Obergefell v. Hodges: Marriage Equality at the Supreme Court: The full text of the Supreme Court case that brought same-sex marriage to the United States [Paperback]- A case which will cause controversy for years to come, Obergefell v. Hodges was the U.S. Supreme Court case that declared same-sex marriage the law of the land. This edition of the full text of the Court's ruling, written by Justice Anthony Kennedy, also includes all four dissents, written by Chief Justice Roberts, Justice Scalia, Justice Thomas, and Justice Alito.
---
Equal Before the Law: How Iowa Led Americans to Marriage Equality
Equal Before the Law tells the stories behind this critical battle in the fight for marriage equality and traces the decision's impact. The struggle began in 1998 with the easy passage of Iowa's Defense of Marriage Act and took a turn, surprising to many, in 2005, when six ordinary Iowa couples signed on to Lambda Legal's suit against the law. Their triumph in 2009 sparked a conservative backlash against the supreme court justices, three of whom faced tough retention elections that fall.
---
McCoy, You're Going Straight to Hell
Through heartfelt e-mails to openly gay Iowa State Senator Matt McCoy, readers will understand the impact of the struggle for marriage equality. These stories will empower others to face, accept, and celebrate their sexuality and relationships. Marriage equality is the new civil right. Passion is strong on both sides of the issue. The battle for equality is more than a powerful political weapon or crusade of religious zealots. It is about love, commitment, and civil rights. These e-mails are artifacts of a critical movement. They bring to life stories of couples affected by the intolerance of laws preventing them from expressing their love and commitment through marriage. Opponents express visceral emotion, often with religious fervor. They see gay marriage as a threat to traditional marriage, family, and the nation. What is a politically charged weapon for some is a way of life for others. The book will disrupt the status quo to keep the momentum in the battle for equality. Those struggling with their sexual orientation will be reminded they are not alone. They are entitled to the same civil rights, tolerance and acceptance enjoyed by others. The book is a call to remain vigilant.