Our staff is now working to make a historical record of Plaintiffs who fought hard for equality.
The site is under construction. Please help by sending us information; case documents, news articles, URLs about your specific case. We will review and start incorporating the information in our master database.
Please follow our Twitter Account as information is added and changes to the website are being made.
Gloria
Searson
Ref: 7856
---
Follow Us On Twitter
---
Items Available from
Amazon.com
---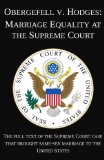 Obergefell v. Hodges: Marriage Equality at the Supreme Court: The full text of the Supreme Court case that brought same-sex marriage to the United States [Paperback]- A case which will cause controversy for years to come, Obergefell v. Hodges was the U.S. Supreme Court case that declared same-sex marriage the law of the land. This edition of the full text of the Court's ruling, written by Justice Anthony Kennedy, also includes all four dissents, written by Chief Justice Roberts, Justice Scalia, Justice Thomas, and Justice Alito.
---
Equal Before the Law: How Iowa Led Americans to Marriage Equality
Equal Before the Law tells the stories behind this critical battle in the fight for marriage equality and traces the decision's impact. The struggle began in 1998 with the easy passage of Iowa's Defense of Marriage Act and took a turn, surprising to many, in 2005, when six ordinary Iowa couples signed on to Lambda Legal's suit against the law. Their triumph in 2009 sparked a conservative backlash against the supreme court justices, three of whom faced tough retention elections that fall.
---
McCoy, You're Going Straight to Hell
Through heartfelt e-mails to openly gay Iowa State Senator Matt McCoy, readers will understand the impact of the struggle for marriage equality. These stories will empower others to face, accept, and celebrate their sexuality and relationships. Marriage equality is the new civil right. Passion is strong on both sides of the issue. The battle for equality is more than a powerful political weapon or crusade of religious zealots. It is about love, commitment, and civil rights. These e-mails are artifacts of a critical movement. They bring to life stories of couples affected by the intolerance of laws preventing them from expressing their love and commitment through marriage. Opponents express visceral emotion, often with religious fervor. They see gay marriage as a threat to traditional marriage, family, and the nation. What is a politically charged weapon for some is a way of life for others. The book will disrupt the status quo to keep the momentum in the battle for equality. Those struggling with their sexual orientation will be reminded they are not alone. They are entitled to the same civil rights, tolerance and acceptance enjoyed by others. The book is a call to remain vigilant.