About
---
On October 17th, 2014, Arizona became the thirty-first state where same sex marriage became legal. Terry Pochert and Joe Connolly were the lead plaintiffs in Connolly v. Jeanes and the lawsuit that started Arizona down its own "Road to Equality" (R2E).
The idea for the R2E website developed during Connolly v. Jeanes, our fight for marriage equality in Arizona. R2E was inspired by the various marriage equality successes at the State and Federal courts. Our first equality website, www.arizonaequality.org, was created to keep friends, family and supporters apprised of developments in the Arizona case(s). As our case progressed, we wanted to learn more about other, similar cases and could not locate a single source of information regarding same sex marriage cases on the internet. The marriage equality case files are distributed between the major legal organizations and with various private legal teams. R2E hopes to change that, centralizing the information.
At R2E, our goal is to:
Recognize all plaintiffs who have fought for marriage equality throughout the years.
Recognize the legal teams who fought for marriage equality
Document the historic cases in all of the United States and U. S. Territories
Provide articles, links and information regarding any and all lawsuits and plaintiffs during their fight.
Identify those individuals and groups who opposed marriage equality and continue to push discriminatory laws against the LGBTQ community.
Provide a history of our journey.
Help us. We need court documents, links to video segments, website articles and newspaper articles before they disappear from the news websites. Please use our contact page, http://www.roadtoequality.com/contact/index.php.
Help us document our collective history.
Terry Pochert and Joe Connolly

Follow Us On Twitter
---
Items Available from
Amazon.com
---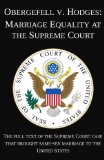 Obergefell v. Hodges: Marriage Equality at the Supreme Court: The full text of the Supreme Court case that brought same-sex marriage to the United States [Paperback]- A case which will cause controversy for years to come, Obergefell v. Hodges was the U.S. Supreme Court case that declared same-sex marriage the law of the land. This edition of the full text of the Court's ruling, written by Justice Anthony Kennedy, also includes all four dissents, written by Chief Justice Roberts, Justice Scalia, Justice Thomas, and Justice Alito.
---
Equal Before the Law: How Iowa Led Americans to Marriage Equality
Equal Before the Law tells the stories behind this critical battle in the fight for marriage equality and traces the decision's impact. The struggle began in 1998 with the easy passage of Iowa's Defense of Marriage Act and took a turn, surprising to many, in 2005, when six ordinary Iowa couples signed on to Lambda Legal's suit against the law. Their triumph in 2009 sparked a conservative backlash against the supreme court justices, three of whom faced tough retention elections that fall.
---
McCoy, You're Going Straight to Hell
Through heartfelt e-mails to openly gay Iowa State Senator Matt McCoy, readers will understand the impact of the struggle for marriage equality. These stories will empower others to face, accept, and celebrate their sexuality and relationships. Marriage equality is the new civil right. Passion is strong on both sides of the issue. The battle for equality is more than a powerful political weapon or crusade of religious zealots. It is about love, commitment, and civil rights. These e-mails are artifacts of a critical movement. They bring to life stories of couples affected by the intolerance of laws preventing them from expressing their love and commitment through marriage. Opponents express visceral emotion, often with religious fervor. They see gay marriage as a threat to traditional marriage, family, and the nation. What is a politically charged weapon for some is a way of life for others. The book will disrupt the status quo to keep the momentum in the battle for equality. Those struggling with their sexual orientation will be reminded they are not alone. They are entitled to the same civil rights, tolerance and acceptance enjoyed by others. The book is a call to remain vigilant.