Select the category of information you wish to view from the horizontal navigation above.
NEW INFORMATION JUST ADDED
Georgia Governor, Nathan Deal, to Veto House Bill 757

Republican Governor Pat McCrory Blames Media for Backlash to His Discrimination Decision

HRC Arizona - Moving Arizona Forward

Freedom For All Americans - Joe Connolly and Terry Pochert

Even In Arkansas There Are Angels

Justice Roy Moore Issues Order to NOT Issue Marriage Licenses to Same-sex Couples

Casa Grande Dispatch - Marriage Equality in Arizona

The U.S. Constitution guarantees us all equal protection under the law. Yet, in spite of what the U. S. Constitution states, unbelievably, the fight for equal rights continues to this day.
There are many roads to equality. The women's rights movement started in early part of the twentieth century. And we are not finished with that journey.
The Civil Right Movement started in the 1960's. And we are not finished with that journey.
The Lesbian, Gay, Bisexual, Transgender and Queer rights movement was kick started at the Stonewall Inn in the late 1960's. And we are DEFINITELY not finished with this journey.
Our nation reached a milestone when the Supreme Court of the United States ruled in favor of marriage equality on June 26th 2015. "Same sex marriage" is no longer… Same sex marriage is now just "marriage". The journey to this historic decision is only one road to equality for the LGBTQ community. There will be and need to be other roads leading to equality.
Our website, Road to Equality (roadtoequality.com) is a labor of love, admiration and respect for our brothers and sisters who paved the way for marriage equality. We hope our site will be a resource, a repository of the history of the marriage equality movement. We are part of this history too. Using private council, we filed the first lawsuit in the State of Arizona.
We have followed different roads to equality but each ends with our common goal, marriage equality. But there will be other roads to equality for our transgendered brothers and sisters and anyone else who is not being treated equal. We hope to document those roads as well.

* * *
These are the Plaintiffs and their Legal Documents who have fought to insure that the Fourteenth Amendment to the United States Constitution applies equality to all citizens.

Follow Us On Twitter
---
Items Available from
Amazon.com
---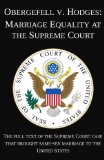 Obergefell v. Hodges: Marriage Equality at the Supreme Court: The full text of the Supreme Court case that brought same-sex marriage to the United States [Paperback]- A case which will cause controversy for years to come, Obergefell v. Hodges was the U.S. Supreme Court case that declared same-sex marriage the law of the land. This edition of the full text of the Court's ruling, written by Justice Anthony Kennedy, also includes all four dissents, written by Chief Justice Roberts, Justice Scalia, Justice Thomas, and Justice Alito.
---
Equal Before the Law: How Iowa Led Americans to Marriage Equality
Equal Before the Law tells the stories behind this critical battle in the fight for marriage equality and traces the decision's impact. The struggle began in 1998 with the easy passage of Iowa's Defense of Marriage Act and took a turn, surprising to many, in 2005, when six ordinary Iowa couples signed on to Lambda Legal's suit against the law. Their triumph in 2009 sparked a conservative backlash against the supreme court justices, three of whom faced tough retention elections that fall.
---
McCoy, You're Going Straight to Hell
Through heartfelt e-mails to openly gay Iowa State Senator Matt McCoy, readers will understand the impact of the struggle for marriage equality. These stories will empower others to face, accept, and celebrate their sexuality and relationships. Marriage equality is the new civil right. Passion is strong on both sides of the issue. The battle for equality is more than a powerful political weapon or crusade of religious zealots. It is about love, commitment, and civil rights. These e-mails are artifacts of a critical movement. They bring to life stories of couples affected by the intolerance of laws preventing them from expressing their love and commitment through marriage. Opponents express visceral emotion, often with religious fervor. They see gay marriage as a threat to traditional marriage, family, and the nation. What is a politically charged weapon for some is a way of life for others. The book will disrupt the status quo to keep the momentum in the battle for equality. Those struggling with their sexual orientation will be reminded they are not alone. They are entitled to the same civil rights, tolerance and acceptance enjoyed by others. The book is a call to remain vigilant.